Back to News
AIPA & ATSB sign Memorandum of Understanding (MOU)
30/11/2018 | Author: AIPA Communications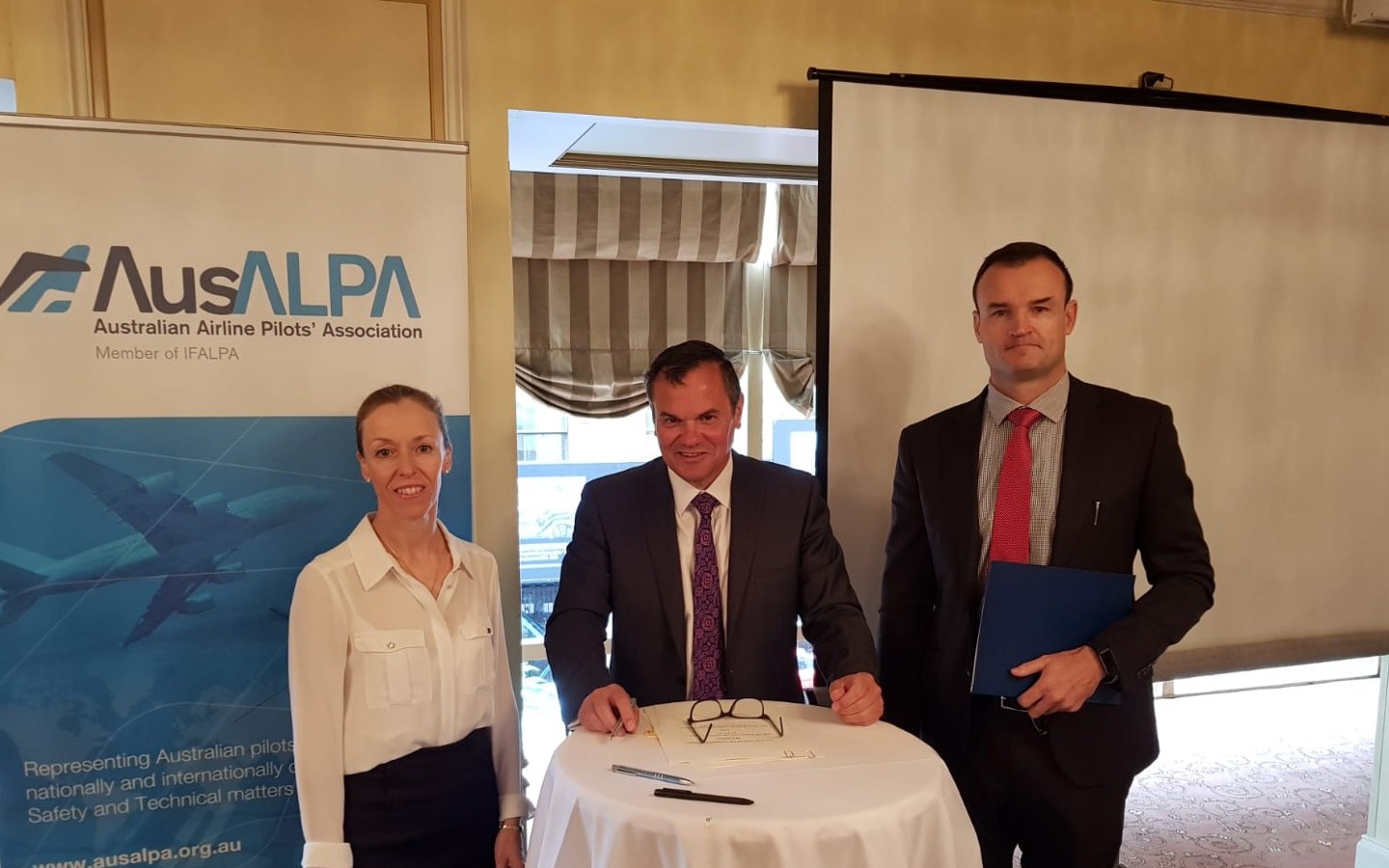 AIPA and ATSB sign Memorandum of Understanding (MOU)
On Friday 16 November 2018 the ATSB signed new Memorandum of Understanding (MOU) with the Australian and International Air Pilots Association (AIPA) and the Australian Federation of Air Pilots (AFAP).  Chief Commissioner Greg Hood signed for the ATSB; First Officer Mark Sedgwick for AIPA; and President, Captain Louise Poole, for the AFAP.
Mr Hood conveyed his thanks to the two pilot associations saying, "the MOUs establish a framework that recognise our interests in working together to improve aviation safety.  The ATSB remains an independent body, but we recognise the value in ensuring we can tap into the highest levels of expertise to help us identify safety issues and get the message out there."
The ATSB is signing a number of MOUs with industry associations to help with building relationships with organisations and people who share a common interest in improving transport safety.  Industry associations can be great advocates for safety action where it is needed.
AIPA President, First Officer Mark Sedgwick commented, "AIPA is pleased to renew our MOU with the ATSB and we look forward to providing assistance and sharing our member and organisational expertise where it can assist the important work of the ATSB.  We especially value the ability to partner with the ATSB in areas such as the welfare of crew involved in the investigative process"
"AIPA has for some years had an MOU with the ATSB and we have strongly supported proposals to redevelop and expand an MOU between the ATSB and a wider range of industry participants. We remain committed to continuously improving aviation safety outcomes and our relationship with the ATSB is a vital component in achieving this. AIPA also encourages CASA and Australia's airlines to undertake similarly improvements in safety relationships with all industry participants. We congratulate Chief Commissioner Hood for taking this step and look forward to working with the ATSB."